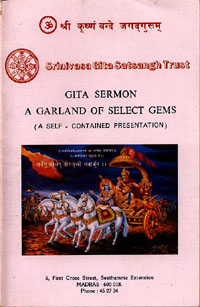 3.GEETA SERMON - A Garland of Select Gems :

This booklet is an integrated, unique and terse presentation of the Geeta Teaching under 71 selected themes, covering about 175 Geeta verses, constituting the core of the message. Reviewing the book for "The Hindu" of april 6, 1993, the late and revered M.P. Pandit of Aurobindo Ashram observed : "This selection of 175 verses under 71 headings has it's own appeal. Each verse in Devanagari is followed by a free translation and terse comment bringing out the relevance of the scripture even to the youth of the modern world. The treatment of the three gunas is shown to have some common elements with the modern sciences. Faith is commended as it is "the reflection of the higher will". The theory of Karma is shown to be not any kind of fatalism but a law that "emphasizes that we are architects of our destiny and we have the power to make it and even mar it, and even death does not interfere with the progress of the effort". Explanation of nishkarma, karma, immanence of God in the universe, tapas as different from body's mortification, are to the point. Underlines the integral character of the Scripture, especially in it's synthesis of the three disciplines of karma, bhakti and Jnana. The selection does draw the reader to the original".

Presenting his book review in Tapovan Prasad, April 1993, Professor C.G.Vasudevan, the well - known exponent of Bhagavad Gita observed : "In a very short canvas of 67 pages condensed the nectarine essence of the Bhagavad Gita without losing sight of the sequences and continuity of thought that runs through the Bhagavad Gita. Without forsaking the sublimity of the divine lore, retaining the sacredness throughout, Sri Chellaswami has done a splendid job to give the Modern man, in modern idioms, the burning theme of the Gita, spelling out at the same time the application of the sound truths and values in day to day life. this short work is a meet adornment for the library of book lovers".

Reviewing the book in bhavan's journal of october 31, 1996, Sri Charu Jaludhwala stated : "Gita Sermon, containing the original slokas, their translation and explanation, well arranged under various topics and in a logical manner, will be an asset to all serious students of the Gita, as here is a book, which picks out the essence of all the eighteen chapters and gives it to the reader on a silver platter, as it were, easy to understand and digest".