SRINIVASA GITA SATSANGH TRUST
Greeting Cards from Srinivasa Gita Satsangh Trust
Four Sided Cards - 17 X 13 cm (laminated)
Side 1 - Printed Greetings on top, with a beautifil multicolor scenery of MIRROR LAKE in Yosemite National Park Beneath, along with a thrilling quote from Geeta appropriate to the scenery.
Side 2 - Blank, for use of personal communication.
Side 3 - Contains brilliant short and sweet summing up of Geeta Sermon bringing out the universal character of the message.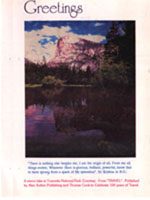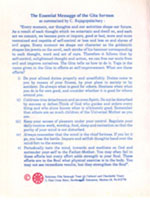 Price : India Rs.3.50 ; Abroad US $1.50(postage extra)
For Bulk orders exceeding 100 cards, 20% discount